RRB Secunderabad Assistant Loco Pilot (ALP) Exam Syllabus 2018, RRB Secunderabad ALP Technician Syllabus 2018 at rrbsecunderabad.nic.in
The Railway Recruitment Board is going to recruit a large number of vacancies i.e, 26,502 (Assistant Loco Pilot – 17673 & Technician – 8829) (officially announced) for the posts of Assistant Loco Pilot all over India through its section recruitment boards of Ahmedabad, Bangalore, Chandigarh, Gorakhpur, Mumbai, Secunderabad, Ajmer, Allahabad, Bhopal, Bhubaneswar, Chennai, Guwahati, Jammu, Bilaspur, Kolkata, Malda, Patna, Muzaffarpur, Ranchi, Siliguri, and Trivandrum.
| RRB Regions | No. of Posts |
| --- | --- |
| Ahmadabad (ADI) – 164 | 164 |
| Ajmar (AII) | 1221 |
| Allahabad (ALD) | 4694 |
| Bangalore (BNC) | 1054 |
| Bhopal (BPL) | 1679 |
| Bhubaneswar (BBS) | 702 |
| Bilaspur (BSP) | 945 |
| Chandigarh (CDG) | 1546 |
| Chennai (MAS) | 945 |
| Gorakhpur (GKP) | 1588 |
| Guwahati (GHY) | 422 |
| Jammu and Srinagar (JAT) | 367 |
| Kolkata (KOL) | 1824 |
| Malda (MLD) | 880 |
| Mumbai (BB) | 1425 |
| Muzaffarpur (MFP) | 465 |
| Patna (PNBE) | 454 |
| Ranchi (RNC) | 2043 |
| Secunderabad (SC) | 3262 |
| Siliguri (SGUJ) | 477 |
| Thiruvanathapuram (TVU) | 345 |
As you are aware the Assistant Loco Pilot and Technician Gr.III Examination was conducted by the Railway Recruitment Board Secunderabad on June 15th, 2014.
It was seen that a large number of candidates had applied and appeared for the Assistant Loco Pilot and Technician Gr.III Examination.
So the competition is expected to be at a higher level this time. Taking cue from the notification i.e., CEN No. 01/2018, we have provided the likely syllabus for the ALP & Technician Exam in this year. There can also be some changes in the notification.
Name of the Organization : Railway Recruitment Board (RRB)
Name of the Post : Assistant Loco Pilot (ALP) & Technician
No. of Vacancies : 3,262.
First Stage CBT (Common for ALP/ Technician)
Duration: 60 Min,
No of Questions: 75
Second Stage CBT
Total Duration: 2 hours and 30 Minutes (Part A & Part B together)
Part A
Duration: 90 Min,
No of Questions: 100
Part B
Duration: 60 Min,
No of Questions: 75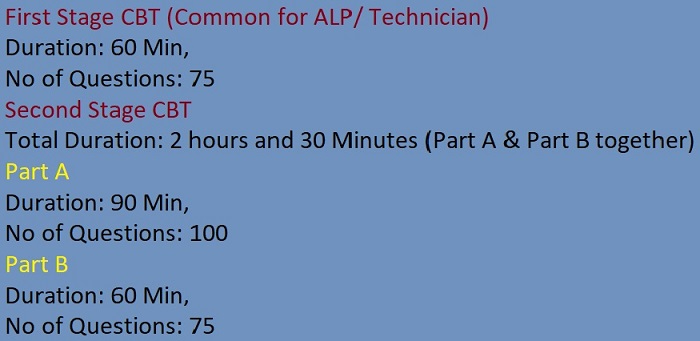 RRB Secunderabad ALP Technician Exam Syllabus 2018
The CBT (Common Based Test) Exam will be conducted in Two Stages. There will be 75 questions in First Stage within the time limit of  60 min's and 175 (Part A – 100 Questions and Part B – 75 questions) questions in the Second Stage within the time limit of 150 (Part A – 90 min's & Part B – 60 min's). Questions will be asked in the exam from the following subjects..,
Technical Ability
General Awareness
Arithmetic
General Intelligence and Reasoning
General Science
Technical Ability :
Mechanical Engineering: Thermo Dynamics, Thermo Dynamic Fluid Flow Machines, Thermal Engineering, Refrigeration and Air Condition, I.C. Engines, Engineering Materials, Machine designs, Theory of Machines, Production Management Industrial Engineering, Fluid Machines, Strength of Materials.
Electrical Engineering
Electronics & Communication engineering
Applied Science
General Intelligence & Reasoning :
Coding-Decoding, Sequence & Series, Alphabet Test, Classification, Blood Relations, Direction Test, Venn Diagrams, Group Reasoning, Number, Ranking & Time Sequence Test, Logical Arrangement of Words.
Arithmetic :
Simplifications, Numbers, Problems on Numbers, L.C.M. and H.C.F., Simplifications L.C.M., H.C.F & Number System, Average, Ratio and Proportion, Time and Work, Boats and Streams, Age Relations, Percentages, Profit & Loss, Partnership, Simple Interest, Compound Interest, Mensuration
General Awareness: Indian Railways, Sports, General Science, History & Culture, Geography, General Polity, Basic Economy.
General Science (Physics & Chemistry)
Physics : Units and Measurements, Mechanics, Molecular Properties of matter, Kinematics, Heat, Motion, Wave Motion, Electromagnetic Spectrum, Sound, Light, Magnetism, Electricity, Electricity – Current, Atomic Structure, Nuclear Physics, Radio-Carbon dating,, Important Laws and Principles, Scientific explanations of common phenomena, Glossarium.
Chemistry : State of Matter and Classification, Atomic Structure, Chemical Reaction, Types of Chemical Reactions, Physical and Chemical Changes, Periodic Classification of elements, Chemical bonds, Acids, bases and salts, Oxygen, Hydrogen, Nitrogen, Carbon and its components, Halogens Sulphur, Phosphorus, Fuels, Water, Metals, Alloys, Polymers, Proteins, Chemistry in everyday life, Dyes, Cosmetics, Chemicals in Food, Detergents, Ceramics, Rocket Propellants, Cement, Glass, Common Fertilizers, Glossarium.
In all the previous technical examinations, it is seen that almost all the questions had come from the above mentioned topics. See the official notification for more details on RRB Secunderabad ALP Technician Syllabus 2018, given below.
RRB Secunderabad ALP Technician Notification 2018 – Available Here
RRB Secunderabad ALP Technician Online Application 2018 – Apply Now (This link available, till 05.03.2018, 23:59 hrs)
Note : In case there is any change in the syllabus, we would post the information on our website. Keep visiting our website for updates.